Plastic Timber Sandboxes
If you need a strong sandbox, you should think about making one from our plastic border timbers. You can line up the borders in any shape you like, drive the spikes into the ground, and fill it full of sand. Presto change-o, you have a great sandbox for kids! We recommend borders that are 12 inches tall, but you can also use borders that are 9 inches tall. And if you want a medieval or jurassic theme, make a sandbox out of our stone-themed borders (10 inches tall) or rock-themed borders (8 inches tall)! Our borders are usually used for retaining protective playground surfacing, but they make a great sandbox, too. We've installed them for this purpose, and they last a long time.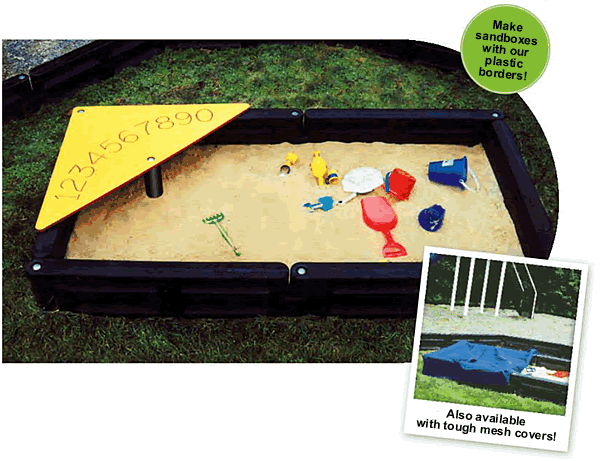 Plastic playground borders are smooth and have no splinters, unlike wood. They look great. Anyone can install them, with just a solid hammer or a mallet. And if you have to relocate the sandbox, the plastic borders are easy to move and reinstall.

Tough polyethylene, which has been roto-molded. They're hollow inside, and they have molded-in ribs for strength.That means that they're incredibly tough and durable, yet lightweight enough to lift easily!There's a 10-year manufacturer's warranty on each plastic border.


Black (standard) and green.  Other colors may be special ordered.

Each plastic border is 4 inches wide and 11 inches deep. The borders are available in lengths of 4 feet and 6 feet. You can build a sandbox with any combination of lengths of 4′ and 6′.

To fit the plastic borders, just overlap two of the borders and secure them with a 30-inch galvanized spike (included) by driving it vertically through the holes in the borders.
| | |
| --- | --- |
| Plastic Border Sandbox Model | Price per Unit |
| 4 x 4 Black | $165.00 |
| 4 x 4 Color | $244.00 |
| 6 x 6 Black | $254.00 |
| 6 x 6 Color | $325.00 |
| 6 x 8 Black | $327.00 |
| 6 x 8 Color | $407.00 |
| 8 x 8 Black | $330.00 |
| 8 x 8 Color | $489.00 |
| 8 x 12 Black | $403.00 |
| 8 x 12 Color | $570.00 |
| 12 x 12 Black | $556.00 |
| 12 x 12 Color | $652.00 |