Rock-Themed Plastic Borders (Reversible)
Click here to request an estimate.
Rock-themed plastic borders bring a unique look to your playground and garden. Our rock finish timbers are made from sturdy roto-molded plastic. And they have 2 themes that you can use: stacked rock on one side, and river rock on the other. These borders are also easy to install, using just a mallet or sledgehammer.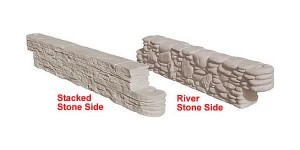 With these rock-themed plastic borders, you can give your playground or garden the appearance of rock wall without building a real one. Each timber has 2 sides, so you can choose between a stacked rock theme or a river rock theme. And they're easy to put in — no expertise needed!

When you install these borders, the ends of each section overlap, and the timbers are fastened in place with 24-inch galvanized spikes that drive into the ground. Just line the borders up and drive the spikes down with a mallet or sledgehammer. It's really that easy to install these great border timbers.

These plastic timbers are made from hollow polyethylene. Inside, they have molded-in ribs, which add strength.

Each border measures 48 inches long from end to end. They're 5 inches wide and 8 inches tall. (Note: Once the borders are installed, only 42 inches of each border's 48-inch length is exposed. Six inches of length of each border section is the overlap that connects into the next timber.)

 These borders are available in one color only: grey rock (which is logical, since they have a rock-themed design).

 The bottom line is, if you're looking for a versatile plastic border that adds a decorative touch to your garden or playground, our Rock-Themed Borders are the way to go. In fact, you get two decorative touches with each border, because each one has a different pattern imprinted on each side. On 1 side, it looks like river stone; on the other side, stacked rock.

One (1) straight plastic rock-theme timber + spike

$36.99 each
Bulk Discount: 40 units or more
$35.49 each

Every timber includes a 24″ spike for fixing in place.